Uberdata: The Ride of Glory
What up humans?! Bradley Voytek is back with the latest installment of #uberdata. Today we're going to get a little emotional. You know that Uber loves you and well, gosh, sometimes it's nice to think that you love us, too. But we're not stupid. We know that we're not the only ones in your life and we know that you sometimes look for love elsewhere.
That's okay. Everyone has needs.
While you all are out loving other human beings, we Uber data nerds are cuddled up with our computers, loving math.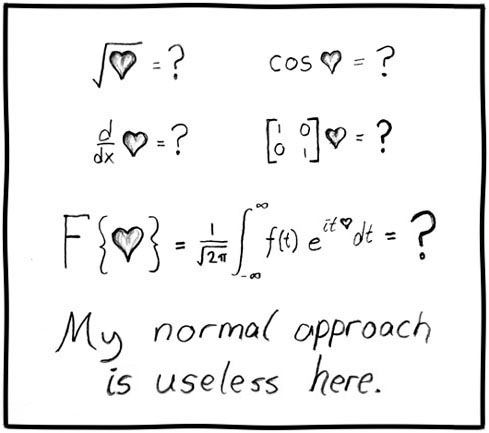 (Source: XKCD)
Recently, I have come to understand that some of you may have—and I'm not pointing any fingers here or anything—on occasion found love that you might immediately regret upon waking up the morning after.
Let's talk about that.
In times of yore you would have woken up in a panic, scrambling in the dark trying to find your fur coat or velvet smoking jacket or whatever it is you cool kids wear. Then it would be time for that long walk home in the pre-morning dawn.
But that was then, the world has changed, and gone are the days of the Walk of Shame. We live in Uber's world now.
Welcome the Ride of Glory: there is never shame in riding with Uber.
One of the neat things we can do with our data is ask about rider patterns: are there weekend riders that only use Uber post-party? What about the workday commuters who use us every morning? It was while playing around with this idea of (blind!) rider segmentation that we came up with the Ride of Glory (RoG).
A RoGer was defined as anyone who took a ride between 10pm and 4am on a Friday or Saturday night, and then took a second ride from within 1/10th of a mile of the previous nights' drop-off point 4-6 hours later (enough for a quick night's sleep). (Note that the cool kids tell me that this time window may not be the best, but small changes don't change the overall pattern.)
I looked at the numbers for 6 of the US cities we're in:
San Francisco
New York
Boston
Chicago
DC
Seattle
Here's what I found:
Boston comes in nearly 1% of all rides being Rides of Glory. They clearly top the list! New York has about 1/5 that proportion. Clearly New Yorkers and Bostonians differ in more than just baseball.
Bostonians: I dub you the Uber Jolly RoGers (yaaarrrrr harhar).
We actually went back and forth in the office about what to call this behavior in the office. Some people liked "Ride of Glory", some liked "Ride of Fame", but in the end "Ride of Glory" meant I could make that goofy pirate graphic. But I digress.
Next, I wanted to see how the proportion of Rides of Glory changes across time to see if there were any clear temporal patterns. Obviously for this I removed the "weekend night" restriction of our definition of a RoGer, but otherwise I calculated these the same way across all our cities.
"Amazingly", RoGers avoid Valentine's like the plague. "Brief overnight weekend stays" dropped precipitously during the days surrounding Valentine's Day.
Apparently the spirit of Valentine's Day moves people beyond just dinner and flowers and actually is affecting their… late night hanging out… behaviors.
The patterns are fascinating. The highest peak is right around tax day (April 15)…. and this one might make sense. Lots of people are getting an influx of cash in the form of a tax refund and—as we've already shown —an influx of cash might be making people more… "frisky". And science has shown us that a man's wealth correlates with the number of orgasms his partner has. Thanks Science! #themoreyouknow
Amusingly, after tax day there's a sharp drop again right around 4/20. Is there something happening that day such that people are otherwise too preoccupied? There's another big spike on Cinco de Mayo, and then not much happens until mid-June when there's another big peak. Now, my birthday just happens to be in mid-June, and I have to say that I'm honored you all are having so much fun because of my birthday.
That's right, I'm going to go out on a limb and say this is a causal (casual?) phenomenon.
Finally, there's a small lull right around the end of July. Either people are being too lazy in the mid-summer heat, or everyone's gone off to Comic-Con.
The temporal pattern of Rides of Glory is such that there's a strong 7-day lag autocorrelation. In other words, there is week-to-week similarity in Rides of Glory, and unsurprisingly they're more likely to happen on weekends, even when controlling for the normal increase in ridership we see on weekends.
We also wanted to know which general neighborhood Rides of Glory were more likely to come from. That is, for people who took a Ride of Glory the next morning, where were they coming from the night before? Here's what the maps look like for the various cities. This shows the proportion of Rides of Glory compared to normal rides
(San Francisco)
(New York)
(Boston)
(Chicago)
(DC)
(Seattle)
This shows us generally where all the super busy people who absolutely need to be getting back in an Uber at 6am on a Sunday morning after a long night partying are hanging out. That is to say, if you're looking to
avoid
this kind of thing, consider this a handy neighborhood guide:
* San Francisco: Chinatown, the Mission, Downtown, Bernal Heights, Russian Hill, the Marina, Castro-Upper Market
* New York: West Village, Greenwich Village, Tribeca, Soho, Clinton, East Village, the Upper West Side, and Williamsburg
* Boston: Central, Back Bay-Beacon Hill, South Boston, South End, Fenway-Kenmore
* Chicago: Near North Side, West Town, Lincoln Park, Near West Side, Loop
* DC: Downtown, Dupont Circle, U Street Corridor, Adams Morgan, Georgetown, Foggy Bottom, Capitol Hill, Logan Circle
* Seattle: Capitol Hill, Downtown, Belltown, Lower Queen Anne, Ballard, First Hill
Finally, I wanted to look at broad behaviors by gender, so I looked at the male/female ridership ratio for each neighborhood from my last post to see if that ratio correlated with the number of Rides of Glory per neighborhood. Sure enough:
The greater the male/female ratio, the more likely for that neighborhood to spawn a Ride of Glory.
You people are fascinating.